NYCN honour Ejigbo NURTW chairman, Olowu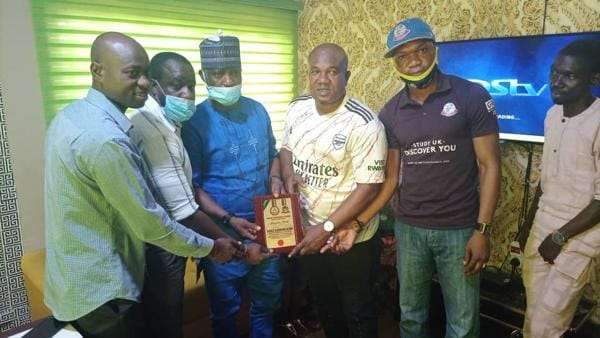 By Motolani AbdulGafar
The Chairman of the National Union of Road Transport Workers (NURTW), Isolo/Ejigbo Branch B, Alhaji Femi Olowu, has been honoured by the National Youth Council of Nigeria (NYCN) Ejigbo branch for supporting the youths to be gainfully employed.
According to the body, Olowu has been assisting many youths  in Ejigbo to be engaged in some jobs through which they make living rather than engaging in illicit acts such as theft and bribery as a result of unemployment.
Speaking, the NYCN Coordinator, Comrade Akinyele Akintunde, said the award given to Olowu by the body was to recognise and acknowledge his efforts to make sure some youths are engage in legal jobs to make their living.
He added that the Union boss has also contributed towards the development of Ejigbo LCDA on his own part.
He noted that Olowu has equally supported the NYCN in assisting youths, saying it would be of great benefit for both bodies to cooperate with the good intention of the LCDA in empowering and sensitising the youths of Ejigbo.
He, therefore, urged political office holders and wealthy individuals in the community to invest more in the developmental projects that would have positive impacts on the lives of the youths in 2021 and create more job opportunities for the youths in the community.
Acknowledging the award, Olowu said it was an impetus to do more.
He stated that the success story of Ejigbo is a result of the good leadership the LCDA has experienced over the years.
"I express utmost gratitude to NYCN as a whole and I must say that we can't be where we are today if not because we are blessed with a kind hearted council chairman who attach much priority to the growth of his people," he said.