Eweleke! Ada Ameh aka Emu Johnson clocks 46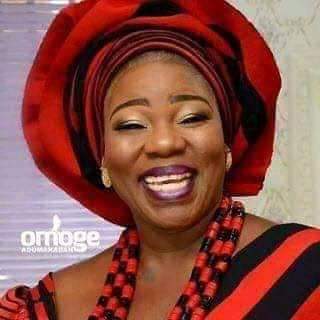 Fans showered birthday greetings on great Thespian and matriarch of the soap, The Johnson's, Ada Ameh as she clocked 46 on May 15. She plays the role as Emuakpor Emuakpor Johnson in the series.
The occasion gave many fans she entertains on the drama series to show their read
Read what they wrote about her:
Shony Bouy
Happy birthday to this wonder gift of life, Ada Ameh , a great thespian with undisputed talent , a merry filled entity, every time with you is Christmas..no dull moment, energy too much. Live long and prosper as you bask in the euphoria of your special day. Cheers🥂. Congratulations!
David Ogbole
For some, their greatness will be judged by what they achieved but for others, it will be based on the odds they conquered. You conquered so much to uncover the star in you. You are a good inspiration to the downtrodden and afflicted. Grace truly found a success story in you.
I celebrate you now and always. Happy birthday Ada Ameh!
Aladi Ameh
For the Lord is good and his mercies endures forever. Happy birthday to my sweet momma Ada Ameh . You are an embodiment of Gods grace. You are strong, intelligent, beautiful, prayerful, the best cook, CRAZY GIVER, a passionate lover to her family and friends, my number one supporter. You look way younger than your age no wonder people give me different ages 😂😂 but people wey know, know. I pray that this year will be a memorable one for good for you in Jesus name amen. I love you.
Fidelis Duker
One of the finest in Nollywood. A director's delight, thoroughbred thespian. Popular for her role as Emuakpo Johnson in the African Magic TV series THE JOHNSONS.
However I will like to remember her for exemplary role in Zeb Ejiro 's 1996 blockbuster movie titled DOMITILA.
Ada Ameh remains one of Nollywood's finest and deserves all the clicking of the wine glasses today
Happy birthday my sister.
Like this content?
Subscribe to Echonews to receive our community news update in your inbox

READ MORE