Strike: Undergrads Dumping Degrees
By Abolaji Adebayo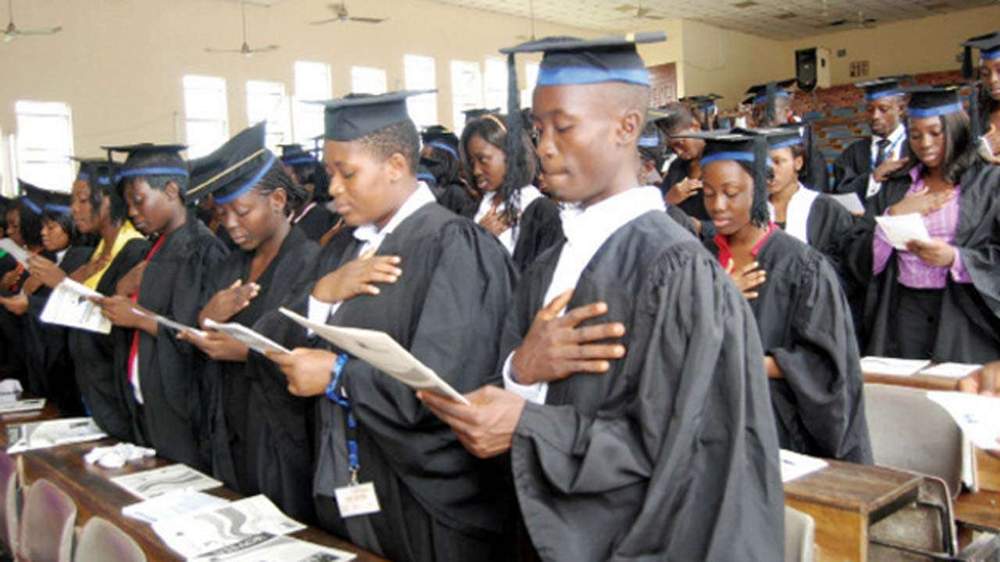 The lingering ASUU strike has continued to have negative impact on Nigerian education sector.
Many of the affected students have had rethink on degree certificates, exploring other means while abandoning their academic pursuit. They now venture into other fields that would have been considered dirty jobs to earn their livings.
A great number of them have to do the work to support their poor parents in their financial obligations while some others venture into learning new vocations as they wait for the strike to be finally called off.
As gathered by ECHONEWS, cases of undergraduates dumping degree pursuit for other things abound.
The strike and many others seen as one of the deteriorating factors affecting the Nigerian education sector and render degree certificates useless have had resultant negative effects on secondary school students as well.
For instance, a case of an SS1 student, who decided to drop out of the school was reported last week.
"Sir, I Have Moved On!," the student was quoted to be saying.
The reporter, Hon. Iyun baba-Ileke (DeeMagic), wrote that the children are angry.
"They deserve to be. Suddenly, they are confronted by obstinate enemies of destinies.
"Nothing is as bad as what our children are going through right now.
Last week, an SS1 student in the school where I teach creative writing told me he wanted to drop out of school," he said.
He quoted the student as follow: "Schooling is no longer rewarding. My brother won't be returning to the university when ASUU calls off its strike. He has moved on. His eyes have opened to money and he is doing fine. I want to join him."
DeeMagic said he had to take the student through counseling.
He further said: "But, it is not only his brother that won't be returning to schools when ASUU calls off this insensitive strike.
"In the last two weeks, I have met 11 undergraduates who may never return to their universities after ASUU strike."
"I am no longer an undergraduate, Sir. ASUU has graduated me. After spending months to learn software engineering in Ikeja, I have started my own business. At present, sir, I am a student of three online universities in the UK. I thank God for ASUU strike," says John, a 200L computer science student.
Darin, a 300L Agric Science student, is now a busy fashion designer. Currently she and her mum got the "aso-ebi" contract for a big wedding coming up in Canada later this year.
"Honestly sir, I don't know where my books are. ASUU strike has opened my eyes. Let them keep their universities," Darin said.
Most disturbing to me was the "I-moved-on" response I got from a very good 400L law student.
"Azeez, where have you moved on to?"
In response, Azeez said: "A friend introduced me to his uncle in Ladipo Motor Parts Market. I signed up for a two years training. I will open my own shop after training. My boss gives me pocket money everyday. I am comfortable. I have moved on with my life."
A number of undergraduates who spoke to ECHONEWS said they have taken up other jobs that now give them hope of good future.
One of them is Morenikeji Adebayo, an Accounting Student of University of Ibadan who has now become a graphic artiste.
Adebayo took the opportunity of the strike to enrol for a three-month computer training, now she makes money from the job while mastering other complex aspects.
"Even if I go back to school, that is just to get my degree certificate for mere sake of having it. I have what I can bank on now. I don't even want to strike to be called off until I finish the training. All I need after the training is money to get my own shop and computers to set up my business. Already I have been making money from the job.
"The degree certificate may not even be useful considering the situation in Nigeria. Many degree holders ate roaming the streets with their degree certificates. Even without the strike, the certificates are not useful, many are dumping their certificates."
This was evident last week when an unemployed graduate of Ladoke Akintola University of Technology (LAUTECH) stormed the school to return his certificate and demand a refund of his fees.
The man was seen in a viral video claiming that he has not profited from possessing the certificate, therefore wanted to return it and have his fees back.
According to him, he has been struggling since graduation, with no financial benefit to show for having the certificate.
The man was heard speaking in Yoruba, "I'm suffering, refund my money. I'm suffering, take your certificate, return my money."
Similarly, a 200 level linguistics student of Adekunle Ajasin University, Akungba-Akoko (AAUA), Ondo State told ECHONEWS that he is already processing his traveling abroad.
According to him, the best for him is to travel out of the country to continue his education and start working.
He stated that in the developed country, one can be working while schooling, the opportunity that is not available in Nigeria.
Mr. Kunle a journalist said he is processing student visa for his child in Canada. He explained that he has direct contact with a school and could also help other students who wish to relocate and continue their academic pursuit overseas.
"I have enrolled my two children  for vocations so that they can be engaged since the ASUU and government refuse to settle their rift.
"I just want to advise the parents to make sure their children are fully engaged because if not, they may result to fraud, yahoo yahoo and all that. We parents have to be more careful with our children now that they are with us, they need proper monitoring and guidance," Mrs. Olayiwola said.
Commenting on the situation, Dr. Taoreed Owolabi, a Physics lecturer at the AAUA, said the lingering strike is really affecting not only the students but the lecturers as well.
He said the ongoing strike has hindered his research work which is supposed to have been completed.
Owolabi, who got his PhD degree in a university in Saudi Arabia, attested to the fact that schooling in Nigeria is somehow difficulty to accomplish.
"Though there was no strike as long as this while I was an undergraduate in Nigeria before I went for my PhD abroad, we also experienced strikes while schooling in Nigeria.
"With the new trend among the students, there is urgent need for the government and ASUU to fond lasting solution to the strike. Our education system may be greatly affected if we don't urgently arrest the situation."
the Director of Information and Public Relations, Lagos State University of Science and Technology (LASUSTECH), Lanre Kuye, appealed to the students to desist from illicit act and keep themselves busy while the ASUU and the government settle their disagreements.
"During this insensitive strike, only psychologically strong children are sustainably useful to themselves. ASUU strike has deeply traumatised many undergrads.
"Parents are enjoined to treat this category of children with understanding, patience, love and generosity. Don't withhold their upkeep allowances. Be kind with words towards them, be less judgemental and don't be too quick to shut them up or throw insults.
"Our undergraduates are going through very difficult times. If you have been to any institution of higher learning, you should already know how frustrating ASUU strikes can be.
"Our children will flourish and prosper with or without ASUU," Mrs. Subuola Shittu, a teacher remarked.
Like this content?
Subscribe to Echonews to receive our community news update in your inbox

READ MORE