Phone charging business booms in Oshodi-Isolo
By Sunday Ogundiran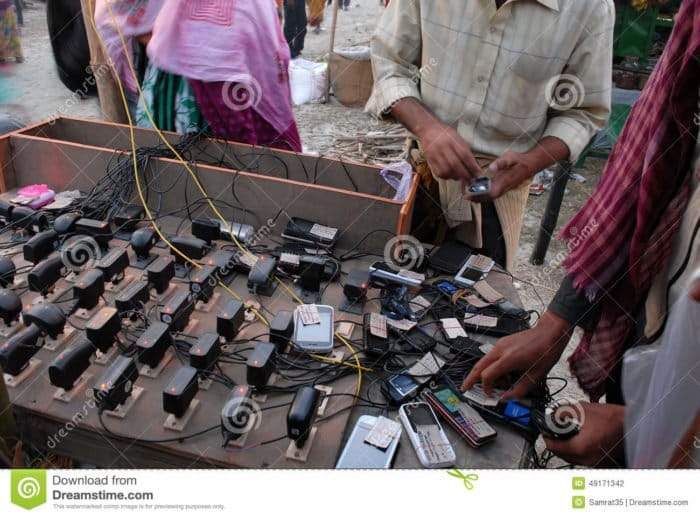 Operators rake in more income as phone charging business booms in Oshodi, Isolo and Ejigbo as the business owners record more patronages on daily basis.
Phone charging which is part of all mobile phone users' daily activities has been turned to business by those who see it as opportunity to make money especially as the community witness incessant epileptic power supply.
To start the business, one needs one or more sizable boards to accommodate tens of phone chargers, get a small power generator as the business may be located in an open space or in a shop.
At least, depending on the area, an operator may make up to N2,000 as profit in a day after deducting the running cost.
Speaking with ECHONEWS on the business, one of charging outlet owners in Ejigbo said the business is a fast growing one, noting that the hallmark of the business is the ability to secure individual customer's phones.
Iya Adijat, an operator in Oshodi said customer's phone in this regards is at the risk of business vendors who has many people patronising him or her.
She noted that to ensure security of the phones, individual customers are given laminated numbered tickets with the charging center's number to identify their phones which they use to claim their phones after the completion of charging as pleased by the customers before paying.
She said: "Different numbered tickets are made available which are pasted at the back of their phones and a duplicate given to the customers to claim their phones.
Without presenting the ticket the mobile phone cannot be release. So, they are always advised not to dispose it for proper transaction."
Another operator around Makinde, Oshodi, Mr. Adebiyi Oluwafemi, disclosed that some of the operators normally charged N50 per phone for charging a phone, noting that additional N20 is charged for using his own charger or desktop charger for a customer.
"In a day I use close to 5 litres of petrol which cost N750 to charge customers' phones which cost but I make the money."