Lagos Building Collapse: We gave approval for 15 floors – LASBCA
By Abolaji Adebayo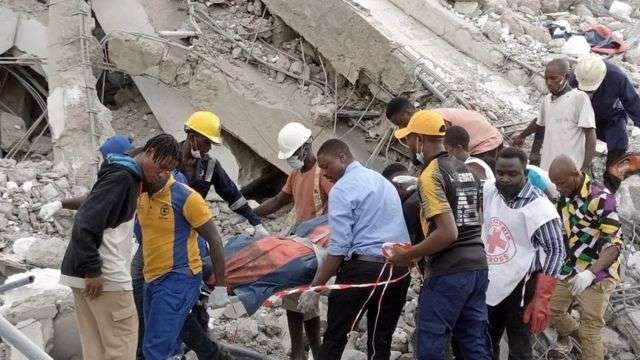 The Lagos State Building Control Agency (LASBCA), has disclosed that the owner of the collapsed 21-storey building under construction in Ikoyi was given approval to construct only 15 floors.
LASBCA general manager, Gbolahan Oki, said the owner of the property had been previously arrested, adding that he would face the law because people have died in the building collapse
"He got an approval for a 15-storey building and he exceeded his limit. I am on ground here and the materials he used are so inferior and terrible," Oki said.
"The materials he used, the reinforcement, are so terrible. He got approval for 15 floors but built 21
"I think he has been locked down. He has been arrested before now."
Oki added that rescue efforts are ongoing.
"We are still here and have four machines working as at this moment," he said.
A witness had said the owner of the building was also trapped in the rubble.
Meanwhile, at least 50 people are said to still be trapped in the collapsed building.
The building, located at 20, Gerrard road in Ikoyi, was scheduled to be completed in 2022.
The company that began the construction of the building, Prowess Engineering Limited, withdrew from the project in February 2020.
A letter titled, Re: Proposed Gerrard Terraces For Fourscore Limited,' signed by the company's managing director, Muritala Olawale revealed that the company withdrew its services on grounds that it no longer shared the same vision with its client believed to be Fourscore Heights Limited as addressed in the letter.
Prowess Engineering Limited, which had constructed two other buildings for its client, said it couldn't guarantee the integrity of the third (collapsed building) from anything above the fourth floor.
It read: "This letter is to formally inform you of the withdraw of our structural consultancy service from the above named project. We arrived at this decision due to the fact that we no longer share the same vision with you as our client in terms of how the project is being executed.
"We can guarantee the integrity of the first two buildings and also work done up to the fourth floor of the third building supervised by us provided specifications have been met in terms of the required concrete strength. This we do not have control over as we do not have the concrete cube test results of each stage of the building till date. Also, note that we are not taking responsibility for any other construction errors that may have occurred overtime on the project.
"Furthermore, we request that our company's name and logo be removed from the project board and also kindly notify all necessary approving authorities of our withdrawal from the project.
"We regret this decision and the lost opportunity to do business together. We look forward to future cooperation in other projects."
Like this content?
Subscribe to Echonews to receive our community news update in your inbox

READ MORE