Lagos BRT Bus-Train Accident Gulps 56 Units of Screened Blood And Components- Osikomaiya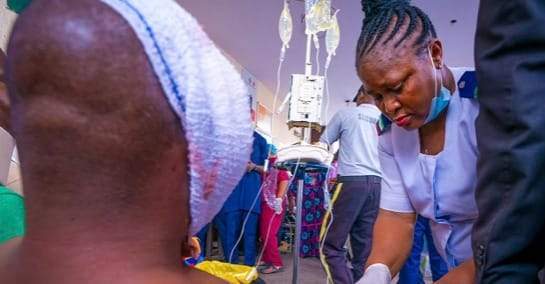 The accident that involved the vehicle of the Bus Rapid Transit and a Lagos State Government Bus early this year gulped 34 units of screened blood and 22 units of blood components to save the lives of the passengers.
The Executive Secretary of the Lagos State Blood Transfusion Service (LSBTS), Dr. Bodunrin Osikomaiya disclosed this during the LSBTS quarterly management review meeting at the agency's headquarters, Gbagada.
She said, "During the BRT bus-train collision, 34 units of screened blood and 22 units of blood components were dispatched to LSBTS-LASUTH blood bank to meet with the emergency requests before the patients got to the State tertiary health facility where all patients were triaged and received emergency care. 849 voluntary blood donors were recruited and the LSBTS had appropriate professional capacity to attend to everyone who responded to news of the disaster."
While referencing the Ita-faaji and BRT bus-train collision accidents, Osikomaiya stated that emergency preparedness plans in blood transfusion service are standard protocols implemented during public disasters.
She added that the outcomes of the two accidents which involved well-coordinated blood transfusion service by LSBTS were well commended by the patients, management team and the citizenry of Lagos State, stressing that no lives were lost due to unavailability of safe blood.
She noted that contrary to misinformation being peddled in some quarters about unavailability and access to safe blood during emergencies, the LSBTS have collected over 82,000 units of blood through its licensed private and public blood banks as at August 2023, a figure which reflects a 17% increase in the number of blood collected a year ago.
According to her. Lagos State Government has the capacity for timely and adequate supply and access to safe blood and blood products in the event of emergencies and disaster occurrence in the State.
She said that the State ggovernment through the LSBTS, has developed capacity to provide safe blood for emergency services during disasters.
Osikomaiya explained that the State Blood Transfusion Service is designated to organise the emergency plan and coordinate actions to be taken by public and private blood banks, blood donation centres and third-party logistics companies in times of disaster and emergencies.
She explained further that Lagos has 28 public blood banks, 126 private blood banks, network of blood donation centres, blood transportation and logistical support by ambulances, motorcycles, and third-party blood logistic companies licenced under the supervision of The LSBTS for movement of blood from blood banks to hospitals and in times of disaster, and from the disaster site to the hospital where the transfusion is required.
According to her, "the Lagos State Blood Transfusion Service was established with a mandate to provide safe blood through the recruitment of voluntary blood donors, screening of every unit of blood for Transfusion Transmissible Infection, efficient processing of blood and appropriate clinical use of blood for all who require it".
She stated that the Agency has implemented the requirements of its mandate by progressively increasing the number of voluntary blood donors at the grassroots and ensuring that every unit of blood is safe for transfusion.
Osikomaiya disclosed that her agency has designed protocol for constant stock of blood for emergencies and disasters, including for Blood Group O Rhesus negative blood which does not need to be cross matched before transfusion when the need arises for blood in line with the international standard of Emergency Blood Release.
"We also have a database of voluntary blood donors and a rare blood donor register which is used to recruit voluntary blood donors if more blood than is available is required as well to replace the already used blood in preparation for other emergencies.
"There is a pool of skilled health workers which include medical doctors, scientists, technicians, phlebotomists and blood donor organisers that are regularly trained and engaged in simulation exercises and drills on emergency and disaster preparedness, who are called upon to support in the provision of emergency services", the Executive Secretary said.
She noted that the LSBTS through the impeccable support of Governor Babajide Sanwo-Olu, has established standard communications systems enhanced with the provision of Closed User Group (CUGs) in LSBTS and public blood banks, and the screening and certification centres.
Osikomaiya added that there is a well organised communication channel with private blood banks through the Blood Bank Society of Nigeria and the Federal blood banks in Lagos University Teaching Hospital (LUTH) and the regional National Blood Service Commission to ensure blood is available promptly during disasters stressing that there are contact numbers of LSBTS emergency officers located in different hospitals to enhance exchange of information.
While stating that Lagos State is the only State with a policy on automation in screening blood for transfusion transmissible infections like HIV I/II, Hepatitis B and C and Syphilis, the Executive Secretary disclosed that Governor Sanwo-Olu recently approved the screening and certification of blood using fully automated systems to ensure the highest quality of safe blood within a short time.
"These screening and certification centres are mandated to offer daily 24-hour service with simultaneous production of emergency blood components like fresh frozen plasma and platelet concentrates by the three LSBTS blood component production centres", She said.