2023: Three aspirants to wrestle Reps seat with incumbent in Oshodi II
By Abolaji Adebayo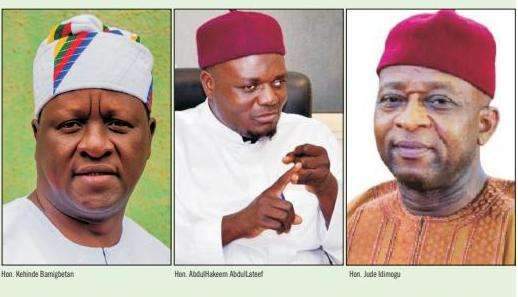 The race to the National Assembly in Oshodi-Isolo Constituency II has started in earnest with the emergence of three aspirants to contest  the Federal House of Representatives' seat.
The aspirants, who made their intentions known last week, include the former Lagos State Commissioner for Information and Strategy, Hon. Kehinde Bamigbetan, the former Lagos State Commissioner for Home Affairs, Hon. AbdulHakeem AbdulLateef, and the incumbent member of the Lagos House of Assembly representing Oshodi-Isolo Constituency II, Hon. Jude Idimogun.
The aspirants are battling the incumbent member of the House of Representatives, Engr. Ganiyu Johnson, who is serving his first term in the lower chamber.
All the aspirants will be jostling for the All Progressives Congress (APC) ticket to contest with other candidates from other parties in 2023.
In 2019,  AbdulLateef backed Johnson to contest the party's primary against  Bamigbetan's candidate, Abeeb Anibaba and  Hammed Oseni who later joined ADP after losing the primary.
Following Johnson's emergence, Bamigbetan also gave Engr. Johnson total support to win the election.
Meanwhile, the political atmosphere has started changing with the declaration of some of the aspirants last week indicating their intentions to succeed Rep Johnson in 2023.
Though the incumbent reps member himself is nursing the ambition of second term as his loyalists has started canvassing for his return in 2023, Hon. AbdulLateef, who was Johnson's loyalist and prime supporter in 2019 was seen declaring his intention on his Facebook page to contest in 2023.
He wrote: "All powers and authorities are in the hands of Allah. Join me with prayers as we commence our journey to the House of Representatives in 2023 ONLY if Allah approves. PRAYERS ONLY PLEASE!"
Hon. Jude Idimogu came into the political limelight after winning the Lagos House of Assembly election under the platform of Peoples Democratic Party in 2015.
He defected to the APC when he wanted to contest for re-election in 2019 and eventually won the seat again under the platform of All Progressives Party.
Although Idimogu has not come out clearly on his ambition to rum for the Federal House of Representatives in 2023, his followers have created a WhatsApp platform – SUPPORT HON JUDE FOR REPS – through which they canvass support for him.
Earlier in April this year, the lawmaker had told ECHONEWS that he would not contest for the Lagos House of Assembly any more but did not disclose his next ambition.
Idimogu told ECHONEWS that his ambition would be dictated by his political godfather, the Speaker of the Lagos House of Assembly, Rt. Hon. Mudashiru Obasa.
Bamigbetan, a political leader in Oshodi-Isolo Constituency II used a teaser on his Facebook page to declare his ambition on Friday by simply writing: "Hon Kehinde Bamigbetan, Member, House of Representatives, 2023-2027. What do you think?"
The next day, the political Juggernaut returned to his page to canvas support still went back to his Facebook page to write "About 24 hours ago, I spoke what was on my mind aloud. In this short period, the positive feedback from persons I value and respect has energised my idea. I thank God for preserving me to this moment so that I can, once more, aspire to serve you again. I thank everyone who has been part of my journey to make lives better for our kids, easier for the women and fulfilling for everybody. When the INEC announces the time-table, God is going to open a new window of opportunity for me to represent you at the Federal House of Representatives. As you did during the six years of my chairmanship in Ejigbo LCDA, I know you are going to walk by my side, whisper in my ears and cheer me to victory, a victory of all for all. I live next door to you in Ejigbo. I am available and accessible. Call me: 08023049261"
Barely some minutes after his message, his loyalists across the constituency started mobilizing to actualize his ambition.
First, they created a WhatsApp group platform tagged "Youth Earnestly Ask For KOK Bamigbetan (Y. E. A. 4 KOK Bamigbetan)", which was later changed to "Progressive Youth 4 KOK".
As at the time of putting this report together on Saturday night, the membership of the platform had reached 244.
One of the group administrators, Olugbenga Ebitigha wrote: "Once again,we would like to welcome you all into this great platform. It is officially christened "Youth Earnestly Ask For KOK Bamigbetan".
"Youth Earnestly Ask For KOK Bamigbetan is a socio-political group set up with the sole aim of campaigning for, as well as facilitating the actualization of KOK's political aspirations in the forthcoming NHA's election 2022.
"The stage is set…. Y.E.A 4 KOK Bamigbetan will recognize, engage and work with youths and women of all caucuses in Oshodi/Isolo Constituency II to actualise our objectives."
John Kayode said: "Enough is Enough. He has been patient all the time and fully committed. Still continue to step down for others. This time I beg let them allow him to contest. KOK is OK. It is OK for me and OK for you."
The immediate past Secretary to the Local Government (SLG), Ejigbo LCDA, Dr. Fregene Omatseye said Hon. Bamigbetan has consulted widely before declaring his intention to contest.
He said: "Our principal, Hon. Kehinde Bamigbetan having consulted with leaders, members of our party and convinced by God, his making himself available for the office of member federal house of representatives Oshodi/Isolo constituency II. Therefore we seek your support."
His career in political communications started off at the office of the Governor of Lagos State where he served as Deputy Chief Press Secretary to the Governor, 2003 to March 2005, and was Chief Press Secretary to former Governor of Lagos State, Asiwaju Bola Ahmed Tinubu till October 2008.
Prior to his appointment as Commissioner, Bamigbetan, who was formerly the Chairman of Ejigbo LCDA, held the position of Special Adviser on Communities and Communities.