Untimely Death: Sanwo-Olu's Wife Tells Lagos Residents To Stop Patronising Local Herb Sellers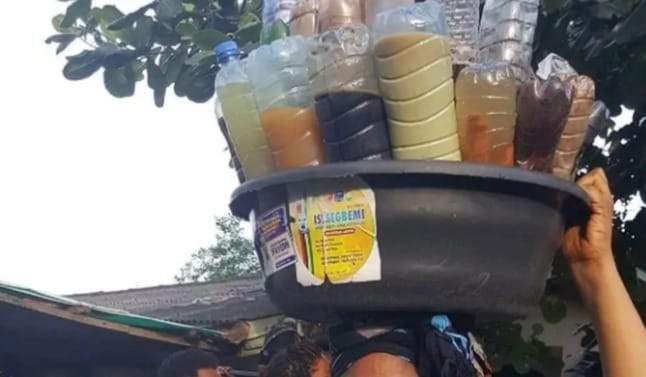 The First Lady of Lagos State, Dr. (Mrs.) Claudiana Ibijoke Sanwo-Olu has called on residents, especially those working at motor parks to desist from patronizing local herb sellers.
She gave the advice as she  challenged her personal aides, security personnel, civil servants and other staff attached to her office to be ambassadors on "Misuse or Illicit Use of Drugs" by educating members of society on the dangers inherent in drug-related abuses.
The wife of the Governor gave the charge during an in-house training organised by the Office of the First Lady held at Lagos Banquet Hall, Alausa, Ikeja, with the theme: "Misuse or Illicit Use of Drugs Among the People".
Speaking on how to curb untimely death resulting from illicit and misuse of drugs, the First Lady urged Lagosians to desist from patronising unregistered drug sellers, especially hawkers of traditional medicine at motor parks, saying that the danger of patronising unregulated or unregistered drug sellers could be deadly.
She, however, advised traditional medicine practitioners to invest in the packaging of their local and indigenous medicine by obtaining necessary approvals from the government such that their traditional medicine can be exported to other countries.
Mrs. Sanwo-Olu stated that it is essential for the staff of the office to propagate the message of adhering to Doctors' prescriptions and the importance of always seeking medical advice within their sphere of influence to reduce the incidences of abuse and misuse of drugs among the populace.
She said: "The Office of the First Lady always plays a lead role in the campaign against several social and societal ills, including campaigns against drug abuse and its misuse. In order to internalise this message, the Office considered it necessary to train its workforce to further educate and enlighten the citizens.
Mrs.  Grace Olanegan, one of the Facilitators at the training, while delivering a lecture on the topic: "Misuse or Illicit Use of Drugs among People", disclosed that more than seven million people suffer from illicit drug abuse in Nigeria, adding that one out of four death cases can be attributed to alcohol, tobacco and illicit prescription of drug usage.
In her words, "According to the WHO, more than 50% of all medicines worldwide are prescribed, dispensed, or sold inappropriately and 50% of patients fail to take them correctly".
She noted that some of these drugs when misused can affect the brain, causing several illnesses including organ damage, stressing that drug abuse is rapidly becoming a global pandemic and national problem that needs to be urgently addressed by collaborative efforts of all stakeholders, as it kills and destroys an individual's life.