Lagos' Weather Swing Raises Flu Rate
By Kunle Awosiyan
(Dr. Fahimot Faduyile, a practising Paediatrician at Daffodil Pediatrics & Family Medicine Forest Park, Georgia United States)
Lagos State Government has always been proactive especially in the health sector. The responses of successive administrations to outbreak of diseases and pandemics have to a larger extent measured up to world standard.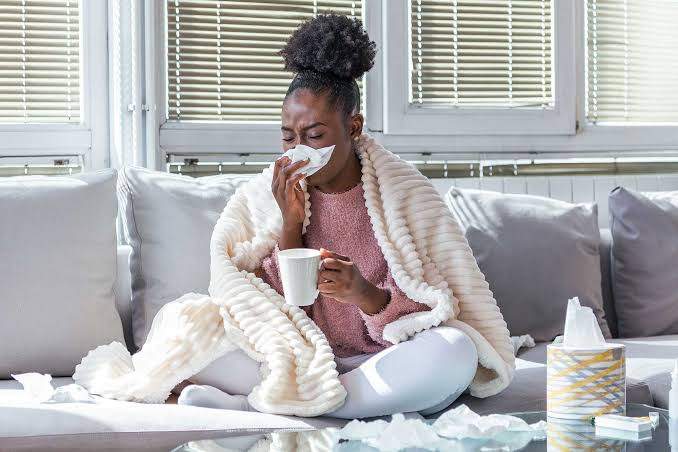 From Governor Babatunde Fashola's performance in the outbreak of Ebola in 2014 to Governor Babajide Sanwo-Olu'scontainment of COVID-19 pandemic, Lagos government hasshown capacity in this sector.
As a matter of fact, Hollywood had to visit Nigeria to shoot 93 Days to immortalise the heroes of Ebola and document the role played by the government.
The state has always been conscious of any outbreak. However, there is a mild bug that is currently flying around in Lagos in the last few days, possibly a result of unstable weather in the state.
Echonews observes that more residents now visit public and private hospitals to check their state of health.
A random sampling of some hospitals shows a slight increase in the number of patients battling with Influenza.
Our correspondent was at Folarin Coker Staff Clinic, Lagos State Secretariat where a few patients told him that they had not been feeling fine since the weather sharply changed a few weeks ago.
The weather is cooler. A nurse at the clinic told Echonews that more patients visited the clinic more for malaria treatment than they did last week, adding that the condition might due to stressor exposure to mosquito bite.
She said, "I think we have about 10 daily since Monday and it wasn't like that before. We advise them to take their medicine."
The nurse who will not like her name to be mentioned told Echonews that some of the patients had running nose and felt feverish with cold.
A patient, who simply identified herself as Tolu and works in the Ministry of Justice said she had been battling with flu for three days. "I don't open my windows anymore. I need some heat," she said
At the Yaba College of Technology Health Centre, our correspondent gathered that at least three students visit the place within one hour interval instead of one student in the last few days.
A student, Ayomide Olakunle said he was diagnosed with Malaria and was asked to go back home after the health centrehad treated him. He also said that two of his friends developed cold and catarrh three days before and had since returned home.
Speaking to our correspondent on what may have led to increase rate of Flu at this period Dr. Fahimot Faduyile, a practising Paediatrician at Daffodil Pediatrics & Family Medicine Forest Park, Georgia United States
said that cold weather is highly associated with high incidence and prevalence of respiratory infection such as common cold and flu due to increased transmission of respiratory viruses.
According to her, the influenza virus survives more in cooler temperature and be able to infect more people.
She says that cold temperature can lead to the decline in the immune response elicited by cell in the nasal cavity to virus, which explains why many people are more susceptible to upper respiratory infection in cooler temperature.
"In a cooler environment, people spend more time indoor and they are more likely to breathe the same air with someone with flu, thus contacting it.
A doctor at Yabatech Health Centre who spoke in anonymity said the health condition of some students could have resulted from mosquito bite at their hostels, as he advised parents to provide mosquito nets for their children.
Asked if flu could arise from the swing in Lagos weather lately, the doctor was reluctant to attribute it to weather condition.
However a new research from a team of Florida State University scientists has shown that rapid weather variability as a result of climate change could increase the risk of a flu epidemic in some highly populated regions in the late 21st century.
The research was published in the journal of Environmental Research Letters by Zhaohua Wu, an associate professor in the Department of Earth, Ocean and Atmospheric Science and scientist with the Center for Ocean-Atmospheric Prediction Studies.
It looks at historical data to see how significant weather swings in the autumn months affect flu season in highly populated regions of northern-mid latitudes of the world. They specifically looked at the United States, mainland China, Italy and France.
Using surface air temperatures from Jan. 1, 1997 to Feb. 28, 2018, researchers analyzed weather patterns and average temperatures over 7,729 days. Simultaneously, they conducted statistical analysis on influenza data sets from the four countries over the same time period.
Previous research suggested low temperatures and humidity in the winter create a favorable environment for transmitting the flu virus.
The Centers for Disease Control reported 186 children's deaths during the 2017-2018 season. The previous high was 171 during the 2012-2013 season.
During the 2017-2018 flu season, scientists found that the extreme fluctuations in weather during the autumn months essentially kick-started the flu, building a patient population early in the season that snowballed in densely populated areas given the contagious nature of the virus.
"The historical flu data from different parts of the world showed that the spread of flu epidemic has been more closely tied to rapid weather variability, implying that the lapsed human immune system in winter caused by rapidly changing weather makes a person more susceptible to flu virus," Wu said.
The issue going forward, scientists noted, is that rapid weather variability is common in warming climates. Having a better understanding of those weather patterns may be key to determining the severity of any future flu season threat. If these climate models are correct, there is an anticipation of increased flu risk in highly populated areas under  this scenario.
"The autumn rapid weather variability and its characteristic change in a warming climate may serve not only as a skillful predictor for spread of flu in the following season but also a good estimator of future flu risk," Wu said. "Including this factor in flu spread models may lead to significantly improved predictions of flu epidemic."
Wu said he and his team are continuing to pursue this line of research with the ultimate goal of creating a model that incorporates both traditional flu indicators on the health and medicine side with environmental factors such as weather patterns.
Going by this study, our correspondent censured Lagos temperature on Thursday and Friday using AccuWeather.com and gathered that the temperature had dropped from normal 34 to 29 degree centigrade.
According to the AccuWeather forecast, the air at 29 degree is the air quality is generally acceptable for most individuals. However, sensitive groups may experience minor to moderate symptoms from long-term exposure.
It says all raw air quality data and information as obtained from Plume Laboratory shows the air quality maps are as real-time as possible and are displayed as soon as practical upon transmission, including current index, forecast, daily and hourly air quality data.
Using standards and guidelines developed by the Environmental Protection Agency (EPA) and the World Health Organization (WHO), among other scientific studies by Plume Laboratory, the air quality data and information is subject to change at any time.
However in the last few weeks of precipitation and attendant coolness, AccuWeather posits that at the current temperature of about 29 degree centigrade, there are concentration of fine particle matter in the air with a diameter less than 2.5 micrometers that can enter the lungs and bloodstream, resulting in serious health issues.
It says that the most severe impacts are on the lungs and heart.
"Exposure can result in coughing or difficulty breathing, aggravated asthma, and the development of chronic respiratory disease.
According to the forecast, the 2.5 micrometers of particle can be deposited in airways, resulting in health issues. Exposure can result in eye and throat irritation, coughing or difficulty breathing, and aggravated asthma. More frequent and excessive exposure can result in more serious health effects.
AccuWeather noted that Lagos, being a highly congested and industrial produces high volume of Carbon Monoxide, which when inhaled at high levels can cause headache, nausea, dizziness, and vomiting. "Repeated long-term exposure can lead to heart disease", it said.
Reacting to this, the Lagos State Ministry of Health said that it had no records of increasing rate of Flu and that Yabatechmanagement never alerted the state of any health issue.
The Director of Public Affair unit of the ministry, Mr. TunbosunOgunbanwo said that he would let Echonews know in case there is any report on Influenza.