Ikoyi Building Collapse: Families grieve, seek reliefs
By Abolaji Adebayo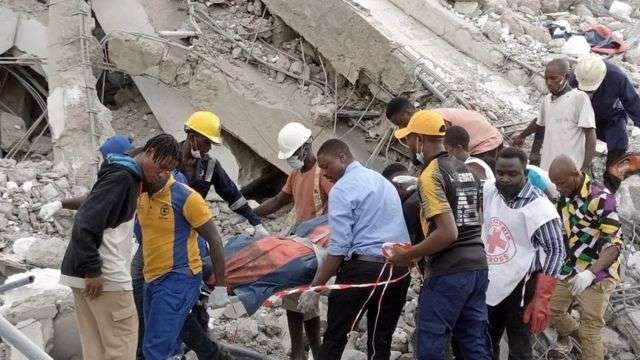 "Dear Sammy, I really don't know where to start. Sammy I'm going to miss you. More than you could ever know. I wish I could tell you more about what you mean to me.
"You were more than my cousin, you were my big brother. You took care of me. Distance wasn't enough to stop you. You always looked for me Sam, even when I didn't want to be found. I admire your vulnerability.
"Your ability to wear it all on your sleeve. You showed me so much love. All of us. It hurts when I read your messages now. Just when i think I'm done crying, It all comes back. This is hard for us Sam. Really hard!
"You gave SOOOO much of yourself to everyone. Literally poured out like a tap. I'd ask you for 1 and you've give me 10. You are the definition of selfless!! I'm going to miss hearing your funny laugh, giant stories and seeing that big smile.
"Yo Tobi, kilonsele!" I won't hear you say that again or rescue me last minute like you always do. You shouldn't have gone like this and like we've said, they had to take down a whole building Mighty Sam. This will never be okay and will hurt forever. I would end this by saying sleep well but knowing you, you're probably on the move in heaven with a fast car already. Man like Sammy, I really love you brother."
Nollywood actress, Zainab Balogun, penned this tribute to her special cousin, Sam Iwelu, one of the young men who found death at the 21-floor 360 degrees that crashed on Monday November 1, this year.
Iwelu, on a visit to Nigeria to attend a wedding, ran into Femi Osibona, the sweet talking marketer and chief executive officer of Fourscore Properties Limited who made it a duty to invite prospects to the property being sold off–plan, an industry jargon for paying for the flats being built.
As he walked into the skyscraper on Monday, Iwelu signed to meet his fate. He died in the crash.
Wale Bob Oseni was an alumni of Mayflower College, Ikenne, same school that Osibona attended. Oseni was on his way to the airport that day, hoping to catch his flight to the US.
He got a call from his fellow alumnus to come and look at his dream project. They were on the eighth floor,  in animated discussion when the bricks cracked and the whole structure came down thunderously.
At the time of putting this report together on Saturday, 42 bodies were reported to have been evacuated from the collapsed 21-storey building in Ikoyi, Lagos including the owner of the building, Mr Femi Osibona.
Immediately after the incident, nine people were rescued alive, three of them were discharged from the hospital while the other six were admitted for proper treatment.
Governor Babajide Sanwo-Olu, while giving an update on the search and rescue operation at the scene on Saturday, said additional six people were evacuated alive from the collapsed structure making 15, and that they  were receiving treated at the Police Hospital in Falomo, Ikoyi.
The Lagos State Government is still striving to get the identity of some of the victims as many of them could not be traced to their families.
Apart from asking the concerned families to come and identify their relatives possibly involved in the incident, the state government has also opened a website for any family who is sure that their relative(s) was/were working at the site when the incident occurred for proper identification and documentation.
They are mostly artisans contracted on a daily pay by sub-contractors.
ECHONEWS estimates that over 100 labourers were involved. An attempt by the ECHONEWS reporter to verify if labourers registered before they were allowed to enter the building was not treated as there was no official of the company or any Fourscore agents.
Gradually, the attention has shifted from the shock of the crash to the mood of gloom that has enveloped the homes of the bereaved.
At the Osenis' home at the Eleganza Gardens, friends and relatives encircle Deola, the mother of Wale's three children, consoling her by appealing to her faith and the fact that it could have happened to anyone.
The family later issued a statement clarifying that Wale Oseni was neither a  director of Fourscore nor one of the subscribers, he was there to visit a friend.
But as families wrap up plans to lay their loved ones to rest, they wake up to the reality of the daily grind of existence: house rents, schools' run, feeding and other regular bills to be paid.
The first source of relief on their mind is compensation to be paid to the family of the victims by the company and how it will come.
A panel of inquiry set up by the government and chaired by Toyin Ayinde,  a former Commissioner for Physical Planning and the president of the National Institute of Town Planners is expected to resolve the controversy in its report.
Like this content?
Subscribe to Echonews to receive our community news update in your inbox

READ MORE