Guinness World Records: Pains And Gains of Chef Baci
Kunle Awosiyan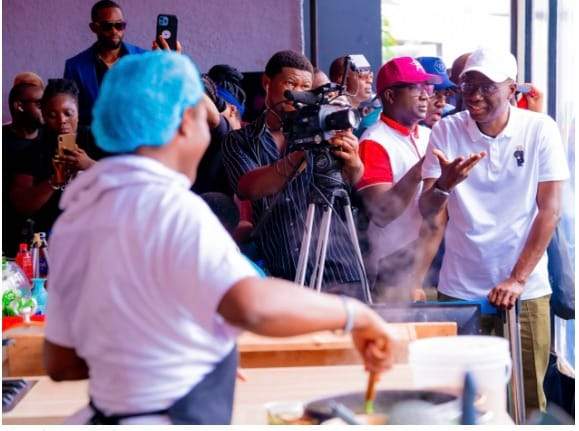 Six hours into her journey to breaking a new world record in her Cook-A-Thon challenge, Nigerian Chef, Hilda Effiong Bassey, "Baci" nearly quit. She wrote on her Instagram page that her body could not bear it anymore but she resorted to God for strength.
"It can only be God. I prayed and with the support of Nigerians who were cheering me up and my mom who stayed with me for the first 14 hours I was able to move on, " she said.
On Monday night she broke a new Guinness World Reco
rd in 100 hours of marathon cooking and fed about 3000 people with her delicacies, including Lagos State Governor Mr. Babajide Sanwo-Olu.
Baci who once won the Nigeria/Ghana Jollof contest said that she had planned for the marathon cooking for five years before she could eventually do it this year.
It is a challenge that has come with five years of planning, which when it became a public awareness, Buci realised that she had to put her skin on line to succeed.
She had just five minutes to rest in every one hour of the marathon cooking in which she was not allowed to sit nor sleep. She cooked all through.
She passed through the heat and felt the burn in her body for about four days to become a record breaker. In those hours, various personalities visited to cheer her up. It was a painstaking exercise filled with dedication and perseverance.
As Nigerians await Guinness World Records to officially announce Hilda Baci as the new record holder of the longest cooking time, brands, government and individuals have continued to celebrate the chef.
The current holder, Indian Lata Tondon who broke the record in 2019 in 87 hours 45 minutes is also waiting for the body to officially announce Baci.
While the world waits for Guinness World Record to announce Baci, various brands will not as they have started aligning themselves with this celebrity.
First was Vesti and Zaron who endorsed the chef. Vasti and Zaron is a cosmetic outfit that will be supplying Baci with its skincare products for a whole year.
In their words, "We are in awe of Hilda's unwavering commitment to breaking the Guinness World Record for longest cooking by an individual. It's undeniable how resilient she is. To cheer her on to triumph, we at Zaron are supporting her by providing 1 year free supply of skincare and makeup products.
The company also said that it would be sponsoring Back trip to Maldives this summer.
As the management put it, "We are thrilled to announce that @vestiofficial will be offering an all expense paid trip to the Maldives this summer, to the phenomenal @hildabaci of @myfoodbyhilda on her daring and record breaking attempt at the #Guinness world record at 27years for the longest number of hours a chef has cooked.
We are inspired by this global feat and wish her the best as she attempts to break the record, and believe this will inspire the next generation of record breakers in Nigeria and on the African continent.
Another brand, Dana gives one-year free flight tickets to Back for all her domestic travels.
The Chief Operating Officer of Dana Air, Ememobong Ettete, announced this in a statement via its official Twitter handle.
Ettete assured that the company would always support the craft, creativity, efforts, and innovations of young Nigerians, who embody the true Nigerian spirit as a proudly Nigerian brand.
"We have always blazed the trail in terms of support for the arts and entertainment industry, health care, and culture and our corporate social responsibility has been all-encompassing."
"We will be supporting Hilda's local travels for one year and Weare inspired by her.
"We understand her mum is also a chef and she must have gotten this inspiration from her and in the light of this, we shall be supporting her mum with 3 months of local flights for free."
When he visited Baci at Amore Gardens in Lekki during the cooking hours afternoon, Lagos State Governor said he had appeared at the place to motivate and celebrate a young talented Lagos-based chef, Hilda Baci, who is making a global record in Longest Cook-a-thon contest.
The chef had cooked for 68 hours when Sanwo-Olu stopped by to boost her morale. The Governor's appearance generated spontaneous excitement among the crowd of youths who gathered at the garden.
Hilda's mother, Mrs. Lynda Brown, and some family members were also around to support her.
In a chat with the Governor, the chef offered a taste of some of the delicacies prepared, including Akwa Ibom's traditional Edika Ikong and Egusi soup.
The Governor witnessed the moment Hilda hit 69th hour in the kitchen, which was at exactly 1pm on Sunday.
Addressing the crowd, Sanwo-Olu said: "My presence here is to encourage a young talented citizen who has been making all of us proud. You can see the Nigerian spirit popping out from her; the resilient spirit that Lagos is known for. We can also feel the Akwa Ibom spirit.
"Hilda is a great inspiration and motivator displaying the values of our country. I wish her the strength and courage to finish well and break the global record. Having made history with the largest cupcakes, we are expecting to have another first for our country and State."
The Governor urged youths across the country, who had been cheering her on social media, not to relent in sending their wishes, stressing that the global record would be their collective win.
Meanwhile the Guinness World Record has reacted to the attempt made by Baci to create a new record, stating that it would have to verify the evidence of the cooking marathon before officially declaring Baci as the new record holder.
The body said that officials on its records team look forward to reviewing the evidence and hope to be able to verify Hilda's efforts as a new record very soon.
"We are aware of the record attempt and are looking forward to receiving the evidence for our Records Management Team to review before we can confirm the record is official," a Guinness World Records spokesperson tweeted.
The application process for the Guinness World Records is in stages.
The first stage requires Guinness to review the record contender's proposal against its extensive record database.
Having been accepted, the individual is then sent a set of record guidelines and an information pack detailing the rules for the record and the evidence required.
Generally, the duration for the standard application takes up to 12 weeks, but priority application can be granted within five working days at the cost of $1,000 for new titles.