Council chairman appreciates UN award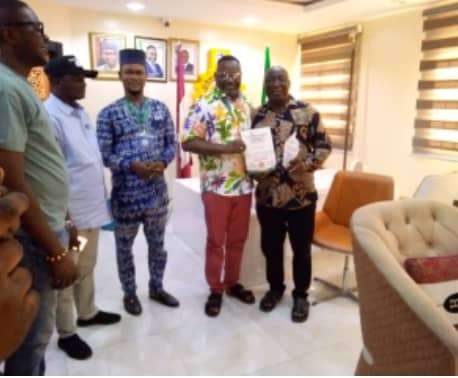 By Edith Igbokwe
In commemoration of the United Nations World Humanitarian Day celebrated recently, the International Association of World Peace Advocate (IAWPA) United Nations awarded Oshodi-Isolo Local Government chairman, Otunba Kehinde Oloyede (Kendoo) for his humanitarian services.
The award was presented by the president of the organisation, Ambassador Salami Saheed to the chairman in his  office at the council  secretariat
"We marked United Nations Humanitarian Day recently and we were given the privilege to nominate the people to be given award in line of their humanitarian activities. We nominated three awardees, Otunba Kehinde Oloyede, Asiwaju Bola Ahmed Tinubu and Alhaji Musiliu Akinsanya  (MC Oluomo), we are glad to inform you (Kendoo) that you won the Lagos State Humanitarian Award of the year. We have presented others theirs but you were not around at the award day, that is why we deemed it fit to present this to you today  in your office."
Responding, Kendoo stated that it was the entire people of the local government that won the award.
He reiterated that the award will further spur him to do more for the people and humanity in general.
"Thank you for recognizing our efforts in making life better for our people through provision of infrastructures. I am not the recipient of this award, it is the whole local government that won it.  We will not stop working and giving back to the people the basic infrastructure to make life easier and better for them."
Like this content?
Subscribe to Echonews to receive our community news update in your inbox

READ MORE