SBMC chairman calls for technological upgrade of Ire-Akari Estate model sch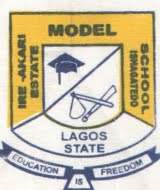 By Damilola Kushimo
The Chairman, School Based Management Committee (SBMC), Ire-Akari Estate Model Nursery and Primary School, Mr. Olakunle Bajela has appealed to the government and corporate organisations on the need to upgrade Information and Communication Technology (ICT) in the school, saying there is need for the model school to be technologically equipped to aid learning and boost academic performances of the pupils.
Bajela said the school has been a pride to the community based on its excellent performances in various competitions, noting that its pupils emerged first and second runner-up at the spelling bee competition organised at the council earlier this year.
He added that the need to do more and expose the pupils to technological world has necessitated the need for ICT facility.
"Unarguably, the world is fast evolving, it's on this note that we are calling the government and corporate organisations to help in the provision of Information and Communication Technology (ICT) facilities for the primary school pupils in order to positively expose them to the ICT world. 
"We appreciate the state government as well as the council boss, Hon. Shamsudeen Olaleye for their progressive involvement in the upliftment of this school. The impacts of Prince Femi Ogunwusi, Education Secretary, Oshodi-Isolo LGA and Dr. Sopein, the SUBEB Chairman Lagos State are equally felt in the school and I will like to extend my appreciation to them as well," he said.
He declared that the committee constituted by the state government has lived up to its purpose of fostering government-community relationship.
Bajela, who doubles as the Vice Chairman of SBMC, Oshodi-Isolo LGA said there are other areas where the school needs development which include manpower, infrastructure and others.
"We believe this will be looked into before the next session but the conviction that government can't do it all alone has made us extend our call to the private sector and well-meaning individuals, politicians. We implore them to extend their Corporate Social Responsibility (CSR) to the educational sector most especially primary schools and help provide ICT gadgets to our school."