TEN POPULAR HERBAL DRINKS FOR LIBIDO
By Abolaji Adebayo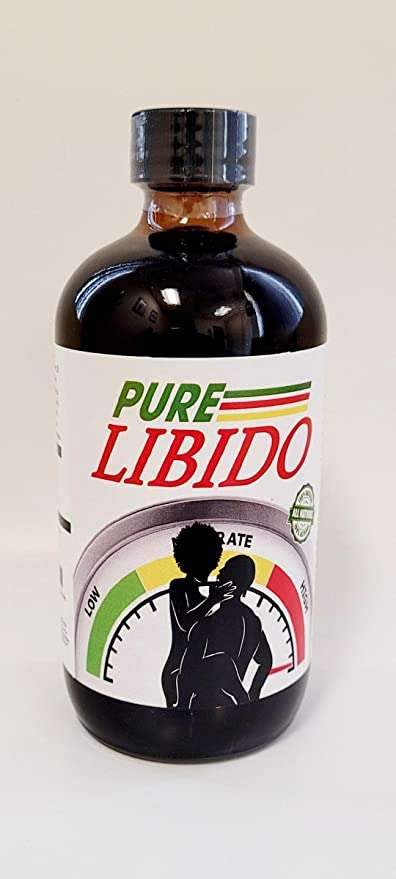 World over, sex and sexuality have become major issue between couples, leading to divorce in marriages.
Issues that relate to finance are said to be a major cause of stress in many relationships. They are a major reason why Nigerian marriages fail. Sometimes, this happens when a man is unable to meet the financial needs of the home.
Aside financial problems, sex has also been identified as another major issue in relationship between man and woman even those who yet to be married.
Women tend to restrain from a man whose  libido is low and cannot satisfy them in bed.
In the western world, the use of Viagra to boost the libido is on the high, as the demand for the drug increases.
Twenty years after anti-impotence drug Viagra hit the market, it is more popular than ever in the Arab world. Arabic media reports stated that the Middle East has the highest per capita share of Viagra users in the world, with Saudi Arabia, the United Arab Emirates and Egypt topping the list.
Viagra, otherwise known by its generic name sildenafil, is the best-known medication for treating erectile dysfunction (ED). It's a common vasodilator that's also used to treat pulmonary arterial hypertension.
The drug was patented in 1996 and approved for ED by the Food and Drug Administration (FDA) in March 1998. It was the first oral treatment approved to treat ED in the United States.
There is no hard and fast rule for how long a penis should remain erect, explains urologist Jay Simhan, MD, associate chair of the department of urology at Einstein Healthcare Network in Philadelphia.
"Naturally, without being on any medications, the average erection for an average person would be roughly 10 minutes," says Simhan. "Of course, there are plenty of people that fall well above (or below) that average."
Prices for Viagra can vary from a few hundred dollars to $1000 or more for a month's supply. Averagely, it costs about $70 per pill, while sildenafil can start about $8.50 a pill, depending on dosage.
The global erectile dysfunction drugs market size was estimated at $2,296.01 million in 2021 and is expected to reach $2.46 billion in 2022, while it is forecast to generate revenue to the tune of $4.8 billion in 2030.
Meanwhile, following the rate of erectile dysfunction in Nigeria and many other African countries causing separation between couple and leading to high rate of infidelity or extramarital affairs which is put at 57.7 per cent, there is need to develop natural herbal drugs to rescue many men.
The high cost of Viagra also warranted the development of the local herbal concoctions.
Noticing the business opportunity in this, many traditional herbal doctors in Africa sprung to the situation and came out with various herbal drugs with different sexually catchy levels
The herbal drugs produced as solution to erectile dysfunction which equally boost libido in both men and women.
And indeed, the drugs have become a cash cow for the producers as people continue to demand for them.
Though a quite number of them have been certified and approved by the National Agency for Food and Drug Administration and Control (NAFDAC) for consumption, there are still many in circulation without NAFDAC approval or approval by any other concerned agency. Some of the herbal drugs are listed below:
ALOMO BITTER
One such herbal drugs, which has gained popularity and large market share in Nigeria is Alomo Bitter.
In 2011, Kasapreko Company Limited of Ghana led the revolution of new players in the market with its Alomo Bitters brand
Alomo Bitter was produced in Ghana by Kasapreko. It is popular not only in Ghana but also in Nigeria, Togo, Ivory Coast South Africa and others. It is a herbal alcoholic gin imported from Ghana; it comes in 750-millilitre bottles and contains 42% alcohol by volume (ABV).
Kwabena Adjei, who created Alomo Bitters, said he developed the alcoholic drink to support blood circulation, good health, and vitality, to connect people – bring couples closer, enrich friendships, and make social moments that are memorable.
JEKOMO
Jekomo herbal mixture is the a non-alcoholic herbs to boost sexual performance, stop premature ejaculation, weak erection, waist pain and boost low libido.
Jekomo is a Nigerian herbal mixture popularly used as sexual performance booster.
On the street of Lagos, you will find women selling Alomo, Action, Babeje, Yoyo, Agbara, Origin, and all other kinds of bitter concoctions – mixtures touted for their ability to make men last longer in bed.
These mixtures and other similar concoctions belong to a group of drugs and herbs popularly called "Man Power" in Nigeria. Jekomo is a Yoruba word that literarily translates to "Let them know".
Jekomo is current sold at the rate between N250 and N300. It is popular in Lagos and Ibadan in Oyo State.
It is stated on its label that Jekonmo is NAFDAC-approved, meaning it is safe to consume. Please note that it is also clearly stated that Jekonmo should not be used by pregnant women.
ACTION BITTERS
Action Bitters is a wine coloured full-bodied spirit with a slight bitter-sweet and appetizing aroma. The brand is for the class of consumers who desire if for its quality restorative and aphrodisiac values.
It is a product of Intercontinental Distillers Limited, a Nigerian based company.
Other libido enhancer bitters produced by the company include DeRock, Confam Bitters, and Rocket Ginger.
This alcoholic bitters is said to be good for liver, kidneys, skin, blood vessels and pancreas. It also balances appetites, curbs sugar cravings, helps maintain healthy blood sugar levels, encourages digestive enzymes, soothes gas and bloating, calms upset stomachs and nausea.
ORIGIN
Orijin Bitters is a unique bittersweet spirit, blended with the flavours of specially selected African herbs and fruits, combined to give a bitter-sweet taste.
Orijin is a Nigerian alcoholic beverage produced by Diaego/Guinness Nigeria PLC. Sold in dark-green 65-centilitre glass bottles and marketed with an ABV of 6%, Orijin is similar to beer in appearance and strength. Unlike beer, the drink does not contain barley or hops, rather marketing itself as "a bittersweet blend with flavours of African herbs and fruit".
Ingredients listed on the label include water, alcohol, sugar and plant extract (kola nut, prune, oakwood, bitter orange peel, wormwood). The resulting flavor is a bitter cocktail with hints of Citrus that give it a distinct medicinal taste. Anecdotally, many fans of the drink claim that the herbs that give the drink its distinctive flavor also act to prevent or counteract a hangover after a night of drinking.
A stronger liqueur version of the drink, called Orijin bitters, is available in 20 cL and 75 cL sizes, with an ABV closer to 30%.
Launched in 2013, Orijin Ready to Drink (RTD) went on to become the fastest-growing innovation brand in Diageo history.[1] In 2015, Orijin had more than 50 percent of the market for non-beer bottled drinks with a similar alcohol proof, according to data tracker Nielsen Nigeria.[2] In 2016, Guinness Nigeria began the production of Orijin Zero, a non-alcoholic variant of the drink. The popularity of the beverage within Nigeria, and its recent exportation to other countries in the region, have prompted competing breweries to look into a similar beverage.
AGBARA BITTERS
Agbara Bitters Herbal Extracts Drink 125ml 4pcs. Man Power Condition is "New".
JAPATA HERBAL BITTERS
In May, this year, the National Agency for Food and Drug Administration and Control (NAFDAC) warned Nigerians against the consumption of all variants of Japata Alcoholic Bitters 100 ml, an alcoholic drink produced by Chigodson International Company Limited.
The agency stated that laboratory findings have confirmed that Japata Alcoholic Bitters in circulation were contaminated, unwholesome, and unfit for humans to consume
The NAFDAC alert with No. 027/2022 signed by NAFDAC Director-General, Prof. Moji Adeyeye, was posted on the official website of NAFDAC.
According to the alert, the investigation into the product was prompted by complaints received from a consumer regarding the alcoholic drink.
The agency stated that during the investigation, samples of Japata Alcoholic Bitters were collected from the site of production, No. 30 Edegbami Offor Street, off Destiny Bus Stop, Isheri-Oshun Street, Alimosho LGA, Lagos State, and different market locations.
These samples were then sent to the NAFDAC laboratory, where an analysis was carried out, noting that findings from the analysis informed the alert.
BABY OKU BITTERS
Baby Oku Drink is a famous local herbal bitter used to cure erectile dysfunction symptoms such as a weak erection, poor libido, premature ejaculation, impotence and low sexual desire.
Chuby Zion Industry, a firm owned by Chief Orogwu Zion Chibuike Peter, manufactures Baby Oku herbal drink in Nigeria.
According to the producer of the herbal mixture, "Baby Oku de Manpower Alcoholic Bitter drink has been awarded as the best to boost man power in the country.
"We have compiled our extra ordinary ingredients over the past years to provide expensive benefits in one bottle.
"It contained ingredients used to treat erectile dysfunction to relax the penis blood vessels making you a ruler in your bedroom. Just a single shot surges your sexual desire and libido to crown you king in exploit.
"Baby Oku de Manpower is marked as the indigenous herbal alcoholic drink paving way in the Nigerian market making men leaders in their erotic businesses."
MUDET HERBAL MIXTURE, KICK AND START
Mudet herbal mixture, Kick And Start (man power & energy). When it comes to boosting energy in sexual health for both men and women, this product has got a pass mark on it.
Made from pure herbs, it is a non alcoholic herbal mixture that gives the man or woman extra strength when feeling tired either physically or mentally during sexual activities. It is also known for its many essential benefits such as dealing with low sperm count in men, Hypertension, Diabetes, Pile, and controls menstrual pain & flow in women.
It also treats body pains and waiste pain, toilet infection, stomach ache and other related diseases.
Meanwhile, there is a warning that the product is not to be used by pregnant women.
ODOGWU BITTERS
In March 2022, Obinna Iyiegbu, popularly known as Obi Cubana, ventured into another line of business with the launch of Odogwu Bitters.
According to the official Instagram page of Odogwu Bitters, Odogwu Bitters is the number one herbal alcoholic drink, energy booster that helps in increasing the libido, provides antioxidants and helps the body fight flu.
The alcoholic drink is sold both locally and internationally and has been distributed to different states of the nation such as Osun, Lagos, Delta, Abuja, Nasarawa, Anambra (Onitsha) and Rivers. It has also been exported to London.
Odogwu bitters is a unique kind of herbal drink, just like other bitters which were supposedly made for the little masses but "it has now become luxury and stands at par with champagnes, hence the name ODOGWU."
Odogwu Bitters is high effectively hot drink said will eradicate any type of infections. It is an energy booster which helps in increasing the libodo and provides antioxidants that boost the sex drive. It contains an ancient herbal mix that also include honey and ginger.
COCO SAMBA BITTERS
In December, 2019, Bullion Go-Neat Global Ltd, an indigenous company while launching the product, described its Coco Samba as being loaded with herbal ingredients for the promotion of good health.
The company made the assertion in its premises in the Ibafo area of Ogun State in an interaction with a selected group of connoisseurs and media men, preparatory to storming the market.
Mr. Olufemi Ajadi Oguntoyinbo, Managing Director of Bullion Go-Neat Global Limited, said brands under the company's name had come to take their place in the consumer market in the country.
He described Coco Samba as a unique blend of herbal extracts of alcoholic bitters packed in 200ml and 375ml containers.
According to him the product was loaded with ingredients that could activate the potency in men and women while also enabling proper digestion.
He said it was produced in line with the company's mission which includes serving a rich blend of quality and health drinks to its customers in an appealing format, saying the products followed years of research.
He said: "The whole process involved travels to villages for herbs and roots of high potency which were later processed in the company's state of the art laboratories under close scrutiny.
"The after blend gives a combination of dark color, crisp and refreshing taste," he said.
ECHONEWS gathered that many of these herbal products could be bought online through the major online shops in the country.
Like this content?
Subscribe to Echonews to receive our community news update in your inbox

READ MORE