Obe tasks residents to work with new security patrol teams
…Creates Surveillance Team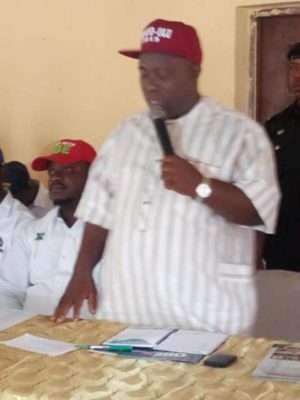 The chairman of Ejigbo LCDA, Hon. Monsuru Bello Obe, has charged the residents to cooperate and work with the new security patrol teams to be created by the council.
He made the appeal during a stakeholders' meeting held at the council secretariat on Monday to deliberate on the security architecture of the community.
Obe informed the stakeholders who included the Community Development Associations (CDAs) that his administration has concluded the decision to create a Surveillance Team that will be patrolling each street.
This was said to be part of the effort to forestall any kind of attack on the residents.
At the meeting, the stakeholders unanimously agreed on some other strategies to tighten the security across the local council area.
One of the strategies, as contained in a communiqué issued at the end of the meeting, is the declaration of ban on commercial motorcycle (Okada) operation from 6pm across the council area, and creation of a surveillance team that will be patrolling each street.
It was agreed that security should be handled by everyone, hence each CDA must erect gate or crossbar at the beginning and end of each street.
Other decisions were that the council should create an effective Surveillance Team which should comprise youths to be nominated by each street.
The council is to provide "Korope" buses for the Surveillance Team to monitor and patrol all the nooks and crannies of Ejigbo.
"Council will equally provide corporate jackets for each member of the Surveillance Group.
"In two weeks time, the Korope buses will be ready and SIRENS will be installed in each of the vehicle. The Sirens of the buses will be blown as the Surveillance Team patrol all areas from 12 midnight to 6am.," the stakeholders concluded.
Other decisions made include: stoppage of street residents' indifference towards the Street Associations and the CDA, while the council sanctions any resident who refuses to cooperate with the Street Residents' Association and the CDA.
In addition, the council chairman urged all residents to cooperate with one another and work in synergy with the neighboring streets to effect excellent security network.
He encouraged every CDA to implement the Laws guiding CDAs in Ejigbo as he emphasised that whoever is not cooperating with the Streets Associations and the various CDAs will be sanctioned.
"Henceforth, all Okada riders operating within the nooks and crannies of Ejigbo will have common branded uniforms for proper identification. Each uniform will bear the name tag and number of the operator."
To effect the proper security network of Ejigbo, the Council Chairman said he has appointed Committees who will constantly monitor and get security reports from the different security apparatus as well as the newly created surveillance group.
The Committee, as contained in a communiqué, will be headed by the Council Chairman himself and the DPO.
Other members include CDC head, CDA chairmen, top council officials, the LNSC, Chief Imam, CAN head, as well as some revered Elders in Ejigbo.
Like this content?
Subscribe to Echonews to receive our community news update in your inbox

READ MORE