Kosofe LG honours late Buraimoh, names court, fountain after him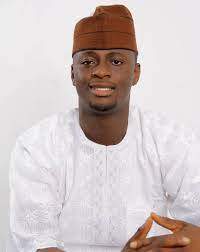 By Edith Igbokwe
The chairman of Kosofe LG, Barr. Moyosore Ogunlewe, has named a customary court with a water fountain after the late for an council chairman, Barr. Tunde Buraimoh.
According to Ogunlewe, the projected are commissioned and dedicated to the late former chairman in honour of his achievements while alive.
He said there is need to immortalise him for what he had done to the local government area while he was at the helms of affairs 24 years ago.
The commissioning was carried out by the lawmaker representing Kosofe constituency 1 in at Lagos State House of Assembly Hon. Sanni Okanlawon.
After the commissioning, Okanlawon narrated the exceptional qualities and attributes that made his former mentor and coach, Buraimoh eligible to be immortalised by Kosofe local government.
"Wherever we found ourselves, if it is in the workplace, within the family or among friends, serve diligently. Tunde Buraimoh has left his footprints behind, he left legacy of service, he was outstanding in his work and we have a lot to show to his credit when he was in the saddle of Kosofe Local Government.
"He was a parliamentarian per excellence, he was a reference point in the house of assembly. When issue became naughty, you see Tunde Buraimoh coming to Unknot it. A very cerebral legislator per excellence, a potent debator, 'a well sought out for committee worker'.
"He will unknot what is naughty and apply wisdom to everything. I feel elated to be asked to unveil this laudable project in his memory. His demise is an eternal wound to some of us, he was my coach, he was my mentor.
"I can't be a bench warmers or back benchers as a parliamentarian because of what I have learnt from him. I want everyone here to nurture the thought that whatever you do, make sure you leave a legacy of service."
The daughter of late Buraimoh, Oyinkansola Buraimoh in the company of her mother, Chief Mrs. Yetunde Buraimoh appreciated the honour given to their family.
She expressed how her late father nurtured her to be amazing woman she is and her excitement to have had an amazing father.
She acknowledged: "Tunde Buraimoh's family is very honoured and very grateful. We thank the local government for acknowledging the works and services that my father had put while he was here on earth. We are very grateful and want to say a very big thank you to the Chairman and Honourable Okla.
"He was my all in all, every decision I have had to make in this life, he has made them with me. He made me the woman I am today. He taught me to be courageous, to be very brave and to always believe in God.
"He was a very religious man. He has literally built me from cradle to become an amazing woman and to excel wherever I found myself. I will forever be grateful for having what I called the best father in the world. I'm so grateful that he was my father, Oyinkansola said."
The council manager of Kosofe local government, Mrs. Ogabi Adetokunbo stated that the customary court would serve the purpose of justice in the local government.
"As we have prevalent of social menace, for instance matrimonial abuse. The customary court is positioned to stabilise these unhealthy practices around us.
"We thank God for this wisdom that the lord has given to our chairman for honouring the name of our former chairman. The family, wife and daughter are here to witness this historic event, we give God the glory.
"Also, we appreciate this beautiful fountain that   replaced the formal old round about and we believe that many are yet to come, all to the glory of God," she said.
The President of the court and the members affirmed the social issues plaguing the society and that the customary court would facilitate revenue generation process.