Obe inspects Kashimawo Alimi, assures maintenance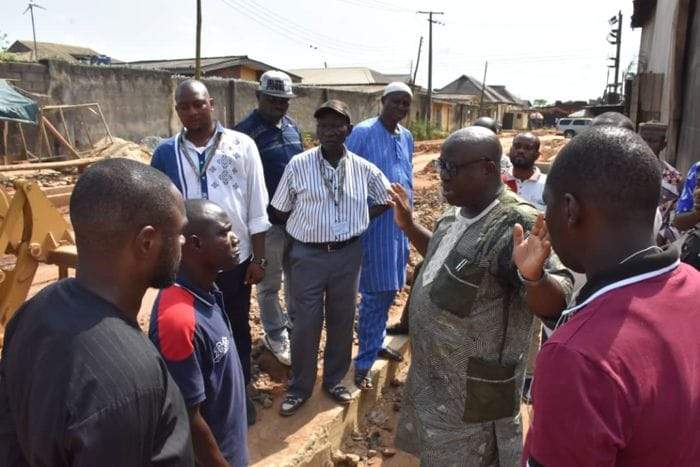 By Olushola Okewole
The Executive Chairman of Ejigbo Local Council Development Area, Hon. Monsuru Bello (Obe), has reiterated his mission to protect the roads and other infrastructures under the jurisdiction of the local council.
He made this known during the inspection of the ongoing upgrade of Kashimawo Alimi road, located beside the Local Council Secretariat from laterite to concrete interlocked road.
In his words Obe said: "My job is to protect the roads and ensure they last long. If our roads do not last, people would blame it on our administration. Therefore, we have to give people what would make them happy for a long time. The Council has a standard and it shouldn't be compromised.
"The ongoing road construction at Kashimawo Alimi already has a well constructed and completed drainage that extends to Oyibodudu, Prince Babatunde Street and a section of Rainbow Avenue. Even while the construction is on, the road is already serving as an alternative route for those moving between Jakande Estate and NNPC Busstop. This is to reduce the pressure of traffic congestion at Jakande Gate."
Meanwhile, mechanics working at the Mechanic Village (a link road between Kashimawo Alimi and Jakande) have been instructed to make their area accessible for motorists pending the completion of the project.
"Whoever disrupts the peace and sanity or causes any breach of peace would be made to face the consequences", the chairman warned.
During the inspection, Obe expressed his displeasure at the houses, companies and schools located along the road under construction as many of the occupiers of the structures have already constructed slabs over the drainage that runs across their entrance.
Marketers and shop owners, who have extended their wares beyond the drainage, have therefore been asked to remove their wares and shop extensions.
"This is to leave the drain open as it is designed to be. An open drain is easy to clear even before it is filled with refuse, hence, preventing flood on the roads.